March 09, 2021
Depression: Bringing to Light the Lingering Sadness
DEALING WITH DEPRESSION
For some, depression creeps up seasonally. In the winter or when we're away from people (like we were during quarantine). For others, though, depression is a part of every moment. It's a lingering sadness that shows itself through slight aggravation, lashing out, and lethargy.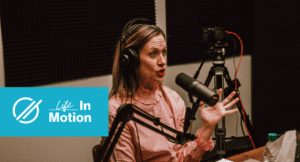 In this episode of Life In Motion, Jamie Jobe opens up and brings to light her story with major depressive disorder. 
"THERE'S ALWAYS AN UNDERLYING FEELING OF SADNESS"
Many people distract themselves with activity, work, or helping others to cope with the feelings of depression. But if you slow down long enough, there's always an underlying feeling of sadness. It's heartbreaking to realize that what you're feeling is not normal. So, what do you do? 
Addressing Depression Physically
Jamie shares a few of the ways she's physically taking steps with her depression. Here's what she recommends:
Change your diet
The nutrients you get (or don't get) from food can directly impact your mental health. Changing your diet might look like cutting out caffeine, carbs, fried food, etc. Look at starting by cutting down on eating out. 
Limit your screen time 
Limiting screen time is an essential but challenging discipline for a lot of people. Whether it's a TV, a phone, or a laptop, your screen has more of an impact on you than you think. Limit your screen time, replace it with physical activity, and see how you feel after. 
Addressing it Spiritually

Talking to someone may be the best thing for you spiritually. If you are struggling with depression that is holding you back from everyday life or seasonal depression that creeps up now and then, we encourage you to talk to someone about how you're feeling. Here are few resources to help get you started:
Counseling Services
COPES
Suicide Hotline
In this episode, Jamie shares a message from Chris Hodges that helped her. Here is a link to that message. 
This episode may be one of the most vulnerable and open episodes of Life In Motion yet. If you identified with anything Jamie said, or if you have some follow-up questions, leave her and Heather a voicemail: 918-270-8590.
Every season, Heather and Jamie set aside episodes to listen to your voicemails and respond to them.