February 03, 2021
Intimacy Over Porn by Blaine Bartel
Let's talk about porn—Have you ever held a loaded gun? I have. Except someone told me and swore on their life that it was unloaded. So I believed them and when they encouraged me to take aim and pull the trigger, I did. Can you guess what happened? BOOM.
Friends, the problem with playing with an unloaded gun is it might actually be loaded—a lesson I've learned the hard way. There are some things in life that you simply don't take chances with.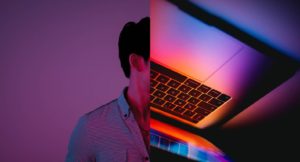 How would Jesus approach the topic of Porn?
Jesus approached sexual lust with just such caution. His take on adultery in the Sermon on the Mount is direct… and should leave us all slightly unnerved.
"You have heard that it was said, 'You shall not commit adultery.' But I tell you that anyone who looks at a woman lustfully has already committed adultery with her in his heart. If your right eye causes you to stumble, gouge it out and throw it away. It is better for you to lose one part of your body than for your whole body to be thrown into hell."
(Matthew 5:27-29)
Jesus makes this point: If you even lust in your heart towards someone, you've already committed the act of adultery.
First, let's be clear on what Jesus is not saying:
1) Jesus is not saying to go ahead and commit adultery since you've already sinned in your heart.
2) Jesus is not saying if you look at someone that is attractive to you, that you've sinned.
What is Jesus saying?
The Greek word for lust in this verse is epithumeó, which is defined as "focused passion." A look becomes lust when we allow a thought to expand into a focused passion to illegitimately have them for ourselves.
Now here's what Jesus is saying:
1) If you don't control your fantasy world, your fantasy world will eventually dominate you.
Our lustful thoughts are not harmless.
Is porn harmless?
Don't fall for the lie that porn is harmless. 
Those who believe porn is harmless are the same people who watch Jaws backwards, and believe it's a heartwarming story about a shark who gives arms and legs to disabled people.
The truth is porn is devouring souls and marriages at the highest rate in history. 
The American Academy of Matrimonial Lawyers reported that 56% of divorces in America are a direct result of one spouse having an obsessive interest in pornographic websites.
IT'S ONLY A MATTER OF TIME BEFORE THE UNDOING OF A PRECIOUS PART OF YOUR LIFE … HAPPENS.
If you're taking a spin in the porn world every so often or flirting with someone online or at work, trust me, it's only a matter of time before the undoing of a precious part of your life… happens. 
Thoughts become actions. Actions have consequence. 
Jesus was also saying…
Jesus wasn't trying to make it more difficult for us to keep the commandment against adultery. He was wisely saving us from ever getting there, by stiffening our resolve to rigorously guard our thoughts.
2) Sexual lust is so destructive that Jesus tells you to gouge out your eye if necessary.
Now, He isn't literally saying we should get rid of our eyes, right? But let's not miss the point. If you actually did gouge out your eye, we would all come to three conclusions about you:
a. You are pretty dang serious about overcoming sin.
b. You are ok with radical discomfort to overcome sin.
c. You are a tad unreasonable in finding ways to overcome sin.
That's precisely what Jesus is saying about lust. Get serious!
Make uncomfortable decisions.
Be unreasonable if you have to.
People constantly ask me… "Blaine, what did you have to do to get free of your addiction?"
Are you kidding me? Everything! What didn't I have to do??
I got serious.
I got uncomfortable.
I got unreasonable.
I threw away my laptop.
I threw away my smart phone.
I spent $30,000 on rehab and counselors.
I went to four men's groups a week.
I changed my schedule.
I quit traveling.
I reported to advocates weekly.
I read and studied incessantly.
I could go on… and on.
I WOULD HAVE GLADLY HAD A DOCTOR CUT MY EYE OUT
If you want to know the truth… I would have gladly had a doctor cut my eye out and sport a patch the remainder of my life if that's what it took to be free.
Why? Because sexual lust kills.
It's a loaded gun. My lust killed my marriage. It killed my relationship with my boys. It killed my career. It killed me financially. And it came close to killing me.
Jesus wasn't threatening eternal damnation.
When Jesus said, "it's better to lose one part of your body than for your whole body to be thrown into hell," I don't believe he was threatening us with eternal damnation.
The word translated hell in this verse is actually "Gehenna," which is was an actual valley outside Jerusalem where they not only cast all kinds of refuse, but the dead bodies of animals and of unburied criminals who had been executed. It was an awful real life reality.
Jesus was warning us, lust will literally destroy you right now. Don't play with it. It will utterly dismantle everything you hold dear in life.
Now let's end with a little good news.
Jesus can save us. Jesus can heal us. Jesus can set us free. Ten years after my personal Gehenna, life is better than I could have ever imagined possible. That's the Gospel. That's Jesus. Beauty for ashes. The oil of joy for mourning.
Brother or sister, if you are bound by lust, get help before the opportunity passes. I've met many a man who has looked back crestfallen with regret — and uttered the words… "If only."
I said it myself. "If only I had reached out for help earlier… in one of those wake-up call moments… all the pain and destruction that could have been avoided."
Do you have a porn problem? Are you having an affair? Are you flirting with disaster?
If you seriously want freedom, reach out for counseling or jump into a small group. Men, look for our brand new mid-sized group in the Spring called Katharos – The Jesus Path to Sexual Purity. 
– Blaine Bartel
Want more info on putting intimacy over porn? Watch Intimacy over Pornography from Church on the Move.