October 06, 2021
GOING DEEPER: Acts 6-7 (12-Minute Bible Study)
For the last several weeks, we've been studying the book of Acts together. This Bible study is for those who've never studied Scripture as well as longtime Bible readers looking for a spark of inspiration for further study. This week, we're discussing Acts 6-7.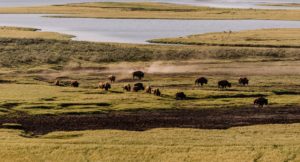 So far, the resurrected Jesus appeared to His disciples, taught them about His kingdom, and ascended into Heaven (Acts 1). The Holy Spirit was poured out on Jesus' disciples with amazing signs and wonders and a bold proclamation of Jesus as Israel's crucified and resurrected Messiah (Acts 2).

The Church was launched and thousands of people were added, both in large events and through the small day-to-day witness of the Jesus community (Acts 2-4). There have been radical acts of generosity, miraculous works of rescue, and sobering acts of judgment (Acts 4-5).

In Acts 6-7, the author (Luke) presents two very different, but interconnected stories, as the words of Peter's sermon—"whosoever shall call upon the name of the Lord shall be saved"—are underscored and put to the test. What does that salvation and rescue actually look like?
What Will You Learn from This Blog
As we consider these two stories together, I want us to consider two specific questions:

– What should Jesus followers do with their personal aggravations?
– How should followers of Jesus respond to legitimate threats?

Personal aggravations. Legitimate threats. Got it? Let's go.
Before We Begin
Before we get started in our study, let's pause for a moment to reflect on what a remarkable gift Scripture is to us. Today, we have more free and accessible Bible translations and more thoughtful commentaries, expository sermons, and Bible devotions that any group of people in history.
When we realize the one book we call "the Bible" is actually a library of ancient texts from a wide variety of authors and the full spectrum of literary genres meticulously preserved and miraculously protected over hundreds and even thousands of years, how can we not be humbled by it?
There's an entire Psalm (Psalm 119) that follows an acrostic using characters of the Hebrew alphabet (aleph, beth, gimel, etc.). It's a literary masterpiece written as a kind of thank you to God for the gift of His Word. As we approach the two inestimably valuable stories, we're about to read in Acts, take in the following portion of Psalm 119 and allow it to give voice to your own personal prayer of surrender.
Psalm 119v33-40
Teach me, O LORD, the way of your statutes;
and I will keep it to the end.

Give me understanding, that I may keep your law
and observe it with my whole heart.

Lead me in the path of your commandments,
for I delight in it.

Incline my heart to your testimonies,
and not to selfish gain!

Turn my eyes from looking at worthless things;
and give me life in your ways.
The two narratives we're about to study not only tell us what happened, they also tell us what happens.
As the local church grows, we see God use wise administrative decisions and ordinary acts of serve, as well as another dramatic presentation of the gospel from an unlikely source. As you see them try to live out the way of Jesus in their story, ask yourself how it should inform your imagination for how you live out the way of Jesus in yours.
Listen to Acts 6 and Acts 7
Enjoy this and this. Make note of your observations and questions as you go.
What Should Jesus Followers Do With Their Personal Aggravations? (Acts 6v1-7)
Now in these days when the disciples were increasing in number, a complaint by the Hellenists arose against the Hebrews because their widows were being neglected in the daily distribution.

And the twelve summoned the full number of the disciples and said, "It is not right that we should give up preaching the word of God to serve tables. Therefore, brothers, pick out from among you seven men of good repute, full of the Spirit and of wisdom, whom we will appoint to this duty. But we will devote ourselves to prayer and to the ministry of the word."

And what they said pleased the whole gathering, and they chose Stephen, a man full of faith and of the Holy Spirit, and Philip, and Prochorus, and Nicanor, and Timon, and Parmenas, and Nicolaus, a proselyte of Antioch. These they set before the apostles, and they prayed and laid their hands on them.

And the word of God continued to increase, and the number of the disciples multiplied greatly in Jerusalem, and a great many of the priests became obedient to the faith.
Reflect
In rural south Georgia (where I grew up), few people ever said they were "miffed" or "PO'd" and even fewer used big words like "exasperated." Some people might say they were "fusstrated" and others "about throw a hissy fit" (short for hysterical fit). We knew to beware if you're on the receiving end of a "bless your heart." But the word most often used to describe the internal condition of personal turmoil was "aggravated". I can't think of a better word to describe what's happening here in the first few verses of Acts 6.

There's an aggravation happening here in the first church. How did they handle it? The Hellenists had every right to be aggravated. But this story is not just about the legitimacy of their complaint. It's about the amazing way God used that point of tension to reveal the beauty and justness of His kingdom.
Take a moment to consider the following questions.
Why does the author point out that these were Hellenists (Greek-speaking, Greek-cultured jews)?
If you were a Hellenist in this story, what narrative would you have put together in your mind as to why your widows were being neglected?
If you were one of the apostles hearing about this complaint, how would you have been tempted to respond, after having been faced so many challenges already?
If God's weapons for spiritual warfare are always acts of goodness, how did each group participate and what was the result?

So how should followers of Jesus respond to personal aggravations, whether we are the ones with the complaint or the ones being complained against?
Recently Pastor Blake Zimmerman preached an incredible sermon on this topic called Opposition from Within. For further study, listen here.
How Should Followers of Jesus Respond to Legitimate Threats? (Acts 6v8-7v60)
And Stephen, full of grace and power, was doing great wonders and signs among the people.

Then some of those who belonged to the synagogue of the Freedmen (as it was called), and of the Cyrenians, and of the Alexandrians, and of those from Cilicia and Asia, rose up and disputed with Stephen. But they could not withstand the wisdom and the Spirit with which he was speaking. 

Then they secretly instigated men who said, "We have heard him speak blasphemous words against Moses and God." And they stirred up the people and the elders and the scribes, and they came upon him and seized him and brought him before the council, and they set up false witnesses who said, "This man never ceases to speak words against this holy place and the law, for we have heard him say that this Jesus of Nazareth will destroy this place and will change the customs that Moses delivered to us." And gazing at him, all who sat in the council saw that his face was like the face of an angel. And the high priest said, "Are these things so?"

[Stephen's Faithful Witness]

And Stephen said:
"Brothers and fathers, hear me. The God of glory appeared to our father Abraham when he was in Mesopotamia, before he lived in Haran, and said to him, 'Go out from your land and from your kindred and go into the land that I will show you.' Then he went out from the land of the Chaldeans and lived in Haran. And after his father died, God removed him from there into this land in which you are now living. Yet he gave him no inheritance in it, not even a foot's length, but promised to give it to him as a possession and to his offspring after him, though he had no child. And God spoke to this effect—that his offspring would be sojourners in a land belonging to others, who would enslave them and afflict them four hundred years. 'But I will judge the nation that they serve,' said God, 'and after that they shall come out and worship me in this place.' And he gave him the covenant of circumcision. And so Abraham became the father of Isaac, and circumcised him on the eighth day, and Isaac became the father of Jacob, and Jacob of the twelve patriarchs.

"And the patriarchs, jealous of Joseph, sold him into Egypt; but God was with him and rescued him out of all his afflictions and gave him favor and wisdom before Pharaoh, king of Egypt, who made him ruler over Egypt and over all his household. Now there came a famine throughout all Egypt and Canaan, and great affliction, and our fathers could find no food. But when Jacob heard that there was grain in Egypt, he sent out our fathers on their first visit. And on the second visit Joseph made himself known to his brothers, and Joseph's family became known to Pharaoh. And Joseph sent and summoned Jacob his father and all his kindred, seventy-five persons in all. And Jacob went down into Egypt, and he died, he and our fathers, and they were carried back to Shechem and laid in the tomb that Abraham had bought for a sum of silver from the sons of Hamor in Shechem.

"But as the time of the promise drew near, which God had granted to Abraham, the people increased and multiplied in Egypt until there arose over Egypt another king who did not know Joseph. He dealt shrewdly with our race and forced our fathers to expose their infants, so that they would not be kept alive. At this time Moses was born; and he was beautiful in God's sight. And he was brought up for three months in his father's house, and when he was exposed, Pharaoh's daughter adopted him and brought him up as her own son. And Moses was instructed in all the wisdom of the Egyptians, and he was mighty in his words and deeds.

"When he was forty years old, it came into his heart to visit his brothers, the children of Israel. And seeing one of them being wronged, he defended the oppressed man and avenged him by striking down the Egyptian. He supposed that his brothers would understand that God was giving them salvation by his hand, but they did not understand. And on the following day he appeared to them as they were quarreling and tried to reconcile them, saying, 'Men, you are brothers. Why do you wrong each other?' But the man who was wronging his neighbor thrust him aside, saying, 'Who made you a ruler and a judge over us? Do you want to kill me as you killed the Egyptian yesterday?' At this retort Moses fled and became an exile in the land of Midian, where he became the father of two sons.

"Now when forty years had passed, an angel appeared to him in the wilderness of Mount Sinai, in a flame of fire in a bush. When Moses saw it, he was amazed at the sight, and as he drew near to look, there came the voice of the Lord: 'I am the God of your fathers, the God of Abraham and of Isaac and of Jacob.' And Moses trembled and did not dare to look. Then the Lord said to him, 'Take off the sandals from your feet, for the place where you are standing is holy ground. I have surely seen the affliction of my people who are in Egypt, and have heard their groaning, and I have come down to deliver them. And now come, I will send you to Egypt.'

"This Moses, whom they rejected, saying, 'Who made you a ruler and a judge?'—this man God sent as both ruler and redeemer by the hand of the angel who appeared to him in the bush. This man led them out, performing wonders and signs in Egypt and at the Red Sea and in the wilderness for forty years. This is the Moses who said to the Israelites, 'God will raise up for you a prophet like me from your brothers.' This is the one who was in the congregation in the wilderness with the angel who spoke to him at Mount Sinai, and with our fathers. He received living oracles to give to us. Our fathers refused to obey him, but thrust him aside, and in their hearts they turned to Egypt, saying to Aaron, 'Make for us gods who will go before us. As for this Moses who led us out from the land of Egypt, we do not know what has become of him.' And they made a calf in those days, and offered a sacrifice to the idol and were rejoicing in the works of their hands. But God turned away and gave them over to worship the host of heaven, as it is written in the book of the prophets:

" 'Did you bring to me slain beasts and sacrifices,
during the forty years in the wilderness, O house of Israel?
You took up the tent of Moloch
and the star of your god Rephan,
the images that you made to worship;
and I will send you into exile beyond Babylon.'

"Our fathers had the tent of witness in the wilderness, just as he who spoke to Moses directed him to make it, according to the pattern that he had seen. Our fathers in turn brought it in with Joshua when they dispossessed the nations that God drove out before our fathers. So it was until the days of David, who found favor in the sight of God and asked to find a dwelling place for the God of Jacob. But it was Solomon who built a house for him. Yet the Most High does not dwell in houses made by hands, as the prophet says,

"'Heaven is my throne,
and the earth is my footstool.
What kind of house will you build for me, says the Lord,
or what is the place of my rest?
Did not my hand make all these things?'

"You stiff-necked people, uncircumcised in heart and ears, you always resist the Holy Spirit. As your fathers did, so do you. Which of the prophets did your fathers not persecute? And they killed those who announced beforehand the coming of the Righteous One, whom you have now betrayed and murdered, you who received the law as delivered by angels and did not keep it."

[The Stoning of Stephen]

Now when they heard these things they were enraged, and they ground their teeth at him. But he, full of the Holy Spirit, gazed into heaven and saw the glory of God, and Jesus standing at the right hand of God. And he said, "Behold, I see the heavens opened, and the Son of Man standing at the right hand of God." But they cried out with a loud voice and stopped their ears and rushed together at him. Then they cast him out of the city and stoned him.

And the witnesses laid down their garments at the feet of a young man named Saul. And as they were stoning Stephen, he called out, "Lord Jesus, receive my spirit."

And falling to his knees he cried out with a loud voice, "Lord, do not hold this sin against them." And when he had said this, he fell asleep.
Reflect
Many Bible nerds (myself included) say Acts 7 is one their favorite chapters in the Bible because it draws on the full scope of Jesus' gospel of kingdom. Stephen, this humble Hellenist having been accused of blasphemy, is the first Diaspora jew in the narrative to stand before the Sanhedrin as a witness to Jesus as Israel's true anointed messiah. He does so with such clarity, passion, wisdom and conviction, the religious leaders are murderously angry.
Books could be written about the significance of this sermon (and some have), but the question we're to consider here in this blog is…
"How should followers of Jesus respond to actual threats?"
After reading about Stephen's response, what would you say the answer is? Stephen had been publicly ministering signs and wonders and preaching Jesus to people from the synagogue, knowing Peter and company had been strictly warned not to do so (Acts 4).
The words used to describe Stephen's posture were: grace, power, and wisdom.
The religious leaders serving Stephen's spiritual enemies had set themselves against him. How did he respond? With grace, power, and wisdom. Stephen's sermon was not only a display of grace, power, and wisdom, but a gift on offer to his enemies! Stephen was not out-debating his opponents in order to win a culture war.
Stephen was doing the most Jesus-y thing a person can do: love your enemies.
Do Stephen's words seem harsh and confrontational to you? You need only to look at his dying words to know his true heart for the people on the other side of the threats, "(Jesus), don't hold my murder against them."

If Stephen responds this way as he watches the ones he calls "brothers and fathers" pick up stones to murder him, how should we respond to those we see as threatening our way of life? Is there something to be learned from Stephen's grace, power, and wisdom?

Teach us your ways, O Lord…

Next Week: Acts 8.

Read last week's blog: Going Deeper: Acts 5 (9-Minute Bible Study)


The photo on this blog was taken by our very own photography volunteer, Isaac Martin. Check out more of his work here.