February 23, 2021
About Church
Get to Know Us More
Maybe you know this… maybe you don't but In Motion is the content platform of Church on the Move in Tulsa, Oklahoma.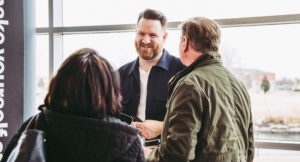 We put together the church blog category for content related to our church and help answer questions our readers might have about who we are and what we do.
A family of churches in Oklahoma
We are a family of churches with one mission: introducing people to the real Jesus. What does that mean? Well, there are multiple Church on the Move churches in the Tulsa area. We have a church in Broken Arrow, a church in Tulsa, one in West Tulsa, and we even have two churches located inside two correctional centers in Oklahoma. We know, it's a lot … but it's also really cool.
Why all the churches?
We think God has always chosen to work through communities through groups of people committed to Him and each other. For several years, we had Church on the Move campuses around the city that would play a video feed from our "main" campus as their church service. But in 2019, our Lead Pastor, Whit George (you'd know him from the Spirit In Motion podcast), felt like God wanted to do something more in these campuses. He felt like God was saying, THESE SHOULD BE FULL FLEDGED CHURCHES. So, we decided to bring on pastors and leaders whose jobs would be centered around bringing hope to the community.
So, no more videos?
That's right! No more videos. Each of our churches are … well … churches—with pastors that teach and meet with people, worship teams, and volunteers that are all live, in-person making a difference in the communities they're in. 
So, with three churches, two prison locations, and a K-12th grade school,  we're ready to keep making big difference in the Tulsa area, and we'd love for you to be a part of it.
To sum up, Our Church In Motion blog answers our readers' most common questions about Church on the Move. Questions like,What do you believe about discipleship? and Why tithe?  We hope you enjoy the blogs! If you have any questions, email us at info@churchonthemove.com.