July 14, 2021
Psalm 107: Let the Redeemed Say So
by Stephen Posey
Unrequited love makes for great comedy, but insufferable reality.
From my first date with Ruth, I knew I would marry her. I wasn't overly anxious about it. In fact, the just the opposite. I felt a great sense of relief from the onset our relationship. After years of searching, the search was finally over. I found her.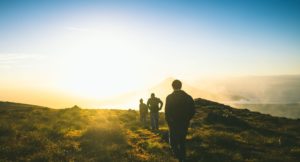 I knew this would be a very different relationship than any I'd been in before. Mostly because Ruth was so different than anyone I'd known before. Neither of us were in any hurry (mostly because Ruth was not in a hurry). If there was a chance we'd spend the rest of our lives together, what's all the rush?
Saying, "I love you," for example, may be something other couples did right away. Not us. This may sound strange, but for us, saying "I love you" seemed like a kind of a sacred threshold, only to be crossed at the right time. Sure we had "fallen in love" almost immediately, but it was as if we wanted to give those words the full weight of meaning they deserved.
I'd been in relationships where I said "I love you" too early and it marked the beginning of the end. I'd also been relationships where we never got to that point at all. With Ruth, I was happy to wait. But the longer I waited, the more I wanted to say those words, and, even more so, I wanted to hear her say them to me. 
A year passed…
One night after a fun date and lots of meaningful conversation, I decided it was time. As I dropped her off at her apartment, I said, "Good night…" I gave her a hug, then I looked into her eyes, smiled, and with all the meaning I could convey, I said… 
"I love you…" 
Ruth smiled her big, beautiful smile, took a deep breath, and said… 
"Thank you." 
Then she got out of the car, closed the door, and waved "Good night!"
What in the actual heavens was that supposed to mean?
I was stunned. I waited a year to say "I love you", and she replies with, "Thank you?!" 
It was utterly maddening. Ruth wasn't the type to play "hard to get", so what did this mean? I tried to be cool and didn't mention it the next day when we texted.
But on the next date, I parked the car outside the restaurant and put on a selected song by an old jazz crooner. Volume up full. The booming voice rang out from the speakers and sang, 
"It's time to admit you love me! It's such a simple phrase. How hard can it be? These few words endear you to me."
I began to plead my case with righteous indignation. "We've been dating for over a year. I have been good to you, haven't I? It's not unreasonable for me to want to know how you feel! Do you love me or not?" 
We celebrate 21 years of marriage this year. She tells me she loves me every day.
LET THE REDEEMED OF THE LORD SAY SO
There's a helpful heading over Psalm 107 in my Bible. It reads, Let the Redeemed of the Lord Say So. 
This phrase, taken directly from verse 2 of that Psalm, has filled many worship songs down through the years. What a compelling line! But what does it mean?
For the next few moments, I'd like to point out a similarity in the theme of this Psalm with my longing plea to Ruth all those years ago, "It's time to admit you love me!"
Psalm 107 begins: "Oh give thanks to the Lord for He is good, His steadfast love endures forever." There is relationship language jam-packed into this opening line. May I show you? 
First, allow me to teach you two or three words in ancient Hebrew. 
"THE LORD" = YHWH (יהוה)
"Yahweh" (יהוה) is the name God gave to Himself when Moses asked "When they ask me your name, what should I tell them?" (Exodus 3v13-14) Down through the years the 
Hebrew people wanted to be careful not to dishonor that name, so they decided to not say it at all.
They would say "adonay" (אָדוֹן) instead, which simply means "the Lord" or "my Lord." Bible translators honored that tradition, so when you read "the Lord" in the Old Testament, you can replace it in your mind with "Yahweh," the personal name God gave the children of Israel when He said, "I will be your God and you will be my people."
To know the name of God meant He revealed Himself in love to you!
STEADFAST LOVE = HESED (חֶסֶד)
The second part of Psalm 107v1 says, "His steadfast love endures forever." The two words "steadfast love" in English are one word in Hebrew "hesed" (חֶסֶד).
Hesed is one of the most meaningful words in the Hebrew Bible. It holds within it, the story of God's rescue and redemption in the great exodus, but also of God's patience and enduring presence in the great exiles.
After asking God what His personal name was, Moses also asked God to tell him the meaning of His name. God responded in dramatic fashion. Exodus 34 says:
"(Yahweh) descended in the cloud and stood with him there, and proclaimed the name of (Yahweh).
(Yahweh) passed before him and proclaimed, "(Yahweh), (Yahweh), a God merciful and gracious, slow to anger, and abounding in steadfast love (hesed) and faithfulness…"
Did you catch that?
God says when we think of His name (Yahweh), we should think of His hesed (His steadfast love). Then to make it abundantly clear to Moses (and to us), Yahweh expounds on the meaning of hesed.
"…keeping steadfast love for thousands, forgiving iniquity and transgression and sin, but who will by no means clear the guilty, visiting the iniquity of the fathers on the children and the children's children, to the third and the fourth generation." 
Yahweh says His hesed, His steadfast love, is an active, on the move, kind of love! It's got multiple dimensions to it! He rescues and forgives, but He also loves righteousness and justice. He loves us enough to fight against the tyranny of sin.
Moses responded in the way that Psalm 107 urges us all to respond:
"And Moses quickly bowed his head toward the earth and worshiped."
IT'S TIME TO ADMIT HE LOVES YOU
Psalm 107 reminds Israel (and us), Yahweh is your God! Hesed has always been and will always be Yahweh's posture toward His people! He is patient and He forgives. He rescues and redeems. 
Psalm 107 maps on to that enduring love story and says in the most eloquent of refrains, "Let the redeemed of the Lord say so!" In other words, it's time for you to admit how much He loves you!  You searched for love in all the wrong places, but God found you. He forgave your iniquities, redeemed you, and gave His name to you.
Consider how Psalm 107 repeats this phrase: "Then they cried to the LORD (Yahweh) in their trouble, and He delivered them from their distress."
If you are a Jesus follower, this story is your story! Don't see it yet?
Look at verses 8, 15, 21, and 31. They repeat this same phrase: Let them thank (Yahweh) for his steadfast love (hesed),for his wondrous works to the children of man! 
1 John 3 says, "Behold what manner of love the Father has given unto us that we should be called children of God!" He loved you because He loved you! He has made you His child.
Now, for the big finale (verse 43): Whoever is wise, let him attend to these things; let them consider the steadfast love (hesed) of the LORD (Yahweh). 
IT'S TIME TO ADMIT YOU LOVE ME
The Psalms give us opportunity to air our frustrations before God in lament. We see a gap between what we're experiencing and the goodness God has promised and the Psalms give words to our prayers for help. But Psalms like Psalm 107 also tell us to recognize, with deepest gratitude, the immeasurable goodness God has already shown us! 
If God has redeemed you, say so! If God has forgiven your iniquity, thank Him! That same God (Yahweh) has revealed Himself to you in Jesus so worship Him! He has gone first. He's said, "I love you" in 100,000,000 ways. It's time to admit you love him.
Would you tell Him now? He so loved you. Tell Him how much you love Him today.