January 13, 2021
About Life In Motion
A Podcast Hosted by Heather George and Jamie Jobe
Life in Motion is a podcast hosted by Heather George and Jamie Jobe. It's a show where two best friends talk about life, family, and the hard things we all go through.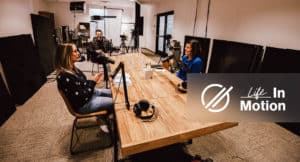 WHAT DO THEY TALK ABOUT?
When it comes to talking about issues in life, society often says, "don't cross this line." Heather and Jamie push that line back a bit and talk about the things you're not supposed to talk about. They're willing to bring the dark parts of life to light so that even the most secret parts of our lives can be put in motion toward Christ.
We know that there is a great deal of shame and embarrassment around the darkest parts of life, but we also know that shame is one of the biggest roadblocks to getting over it. Heather and Jamie try to normalize tough conversations so you can move forward.
Heather makes everyone around her feel comfortable to be themselves and Jamie cuts straight to the point in conversations. Together, they'll get you talking about the parts of life you never would have considered talking to your pastors about.
CONNECTING WITH YOU
Heather and Jamie love to bring people together in their everyday lives. So naturally, their podcast is a place where they want to do the same. Every season, we set aside episodes to hear from listeners and talk about your thoughts. Each episode, you'll hear them mention their voicemail inbox; that's where they hear from you!
 To share a question or a comment on the show, leave Heather and Jamie a voicemail: 918-270-8590
. We can't wait to hear from you.
LISTEN TO LIFE IN MOTION
Subscribe to Life in Motion and other Church on the Move podcasts on Apple Podcasts, Spotify, or YouTube
Listen to Episode One of Life In Motion.