February 22, 2022
Building a Community You Can Rely On
How do you build a community you can rely on? Everyone wants (and needs) a strong network of support, but actually finding the people who will stick by your side through the best of times and the worst can be hard. These deep and lasting relationships can only be built with focus and intentionality.
Unfortunately, life-giving friendships almost never just fall into our laps. (But that would be nice, right?) Maybe you are at the starting line of cultivating community: you don't have the community you desire but you are ready to seek out those relationships. Or maybe you do have a lot of close relationships but want to be more intentional about strengthening them.
Let's talk about some essential steps to a strong and healthy community.
1. Seek out social situations
It might sound obvious, but you can't cultivate relationships with people if you're never around them.
Self-isolating can be a natural response to discomfort or anxiety, but if you are never around other people, you can't foster new relationships or maintain current ones.
Are you in a small group?
Small groups are one of the best ways to form deeper connections with like-minded people. True spiritual formation can only happen when we lean on other believers for their perspectives, wisdom, and loving correction.Small groups are also a great way to build deep connections quickly, as people open up about their past and current struggles much more quickly than in other contexts.
Consider finding a ministry or outreach to get involved in.
One of the best ways to make new relationships or strengthen existing ones is by committing to a shared activity—and what better activity to share than one that makes a difference in the lives of others?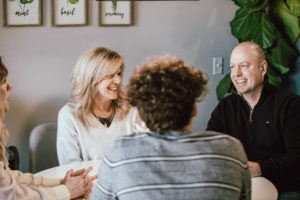 2. Be vulnerable.
Vulnerability is an essential ingredient to a close, deep, and authentic community. But it can be scary! Being vulnerable opens us up to hurt, and nobody wants to get hurt.
Being truly vulnerable first requires self-awareness.
Psychologists Duval and Wicklund define self-awareness as "the ability to focus on yourself and how your actions, thoughts, or emotions do or don't align with your internal standards. . ."Being aware of our inner emotions and motives, as well as the effect we have on people, allows us to approach others with empathy. This will give them the safe space to be vulnerable, and they will be inclined to offer that same safety to you.
Practice vulnerability.
Tell someone when they've done something that upset you, share something personal despite fear of embarrassment or rejection, or tell someone how much they mean to you.These may all seem like simple tasks, but they take a lot of vulnerability, and they can serve to break down barriers between you and someone else.
3. Foster joy.
When someone walks in the room, do they automatically know that you're are happy to see them?
God designed our brains for joy.
In their book, The Other Half of Church, Jim Wilder and Michel Hendricks reveals that God actually engineered our brains to seek out joy, and true joy is found in a relational context: "God designed our brains to see joy through eyes and facial expressions, through being with people who are glad to be with us."As we engage in real and authentic relationships, our joy grows. And when we express our delight in others through our expressions and words, we are strengthening those relational bonds and increasing their joy as well.
4. Be the kind of friend you would want to have.
Ultimately, be the kind of friend that you want. It's that simple.
Think about specific things you value in relationships and then be intentional about practicing those things toward others. To have good friends, you have to be a good friend.
Be honest and trustworthy.
Be a good listener and check in with people: invest your time and energy.
Send a quick text or make a phone call
Your intentionality will go a long way.
Cultivating a community takes work. You may have to go outside of your comfort zone to find relational connections, or maybe do some internal work to foster self-awareness and empathy. It can feel overwhelming, scary, and defeating. Strong and healthy relationships take work. But we promise it is so worth it. Why? Because God designed us for relationships:
"And let us consider how we may spur one another on toward love and good deeds, not giving up meeting together, as some are in the habit of doing, but encouraging one another—and all the more as you see the Day approaching." Hebrews 10:24-25
If you're looking for a community, we would love to help you find it.
Find a Group
Check out our podcast on making friends: HELP! I don't have any friends