February 16, 2021
What is Discipleship? by Lee Martin
"The Mountains are Calling. And I Must Go." —John Muir, aka "John of the Mountains"
I love to climb mountains. 
It's been a passion of mine since I was a teenager. A couple years ago, my best friend and I got to climb one of our dream summits, Mount Rainier, in Washington state. Mt. Rainier is one of North America's premier mountain climbs, in part, because the whole upper half of the mountain is covered by a glacier. Ice that's hundreds of feet thick and continually moving at a few inches per day down the mountain. Cracking and splitting as it creeps along.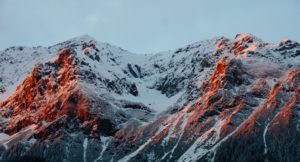 Needless to say, this climb was not a simple "walk up." It required specific skills, new tools, and an experienced guide. The danger of sliding off the side of the mountain, or falling into a crevasse (a huge crack in the ice), or freezing to death in the sub-freezing temperatures were real concerns! But that didn't stop us from embarking on the adventure anyway. Why? Because we longed to see and experience things that simply cannot be discovered down in the flat lands. When I'm in the mountains I feel fully alive! This is a picture of discipleship.
Discipleship is just another word for following Jesus. Jesus was a Jewish rabbi and the followers of a rabbi are called disciples. A disciple is just a learner, an apprentice, someone adopting the ways of another. That's what it means to follow Jesus, BUT there is so much more to it than just that. 
Discipleship is an adventure! 
Our mission at Church on the Move is to introduce people to the real Jesus. Why is that so important to us? Because when you meet the real Jesus you discover the real you. It's the path to life, the capital "L" Life that Jesus offers. 
"There is an enemy that comes only to kill and to steal and to destroy. But I have come that you might have life. And have it to the full." — John 10:10
The most important element of climbing on the glacier of Mt. Rainier was our rope team. 3 climbers connected behind our guide by a long rope, spaced about 20ft apart. The purpose of the rope was safety. More accurately, survival. If one of us fell in a crevasse or off a sheer face of the mountain the other 3 could quickly drop to the ice with our ice-axes buried under our weight and stop the one who was falling. Without the rope team one small misstep could be fatal. Connected together and following our guide we were secure. Well, more secure.
Unfortunately, life itself is not without the danger of tragedies and trials. And following Jesus is not a guarantee we will be spared such hardships. But Jesus is a trustworthy guide. He teaches us new skills we will need along the way, offers us useful tools that ensure safe passage, leads us forward and upward, to places we could never discover on our own. But he warns us of the danger of trying to travel alone. Success on this journey demands having the support, encouragement, and security of a "rope team." Those who willingly connect themselves to us, and us to them, no matter were the Jesus-journey leads. 
Sometimes the way is steep and the path is narrow as a disciple, but the way of Jesus leads to unbelievably wonderful things to see and experience that we would never discover if we chose not to follow. That's what discipleship is all about, stepping out in faith and following. 
This is the incredible invitation of Jesus. The invitation to come fully alive!
He is the one calling and we must go! Everyone comes to their discipleship journey from different places. Some come with lots of knowledge and experience, some come with none at all. The invitation is still the same no matter where you are in your life. No matter what you've done or where you've been. Whether you're just getting started or you've been walking with Jesus your whole life, we believe there is more Jesus has for you. For all of us. But how? 
Here are four elements of discipleship:
We don't believe it's complicated. Following Jesus just means taking small steps with Jesus while being "roped up" or connected to others. We're not saying it's always easy, but it's simple. And we believe the scriptures have given us a clear discipleship path, or way of following Jesus that can be explained through 4 equally important elements. 
1. Discipleship is KNOWING GOD
No one can believe what they do not understand. And so at Church on the Move we value teaching and training. When our minds are enlightened to the things of God our hearts follow in obedience and integrity. So we will always be pursuing a richer knowledge of God and His Word and inviting others along the way so that we can have a richer, deeper experience in life. 
This is why we preach the Gospel in our weekend services, why we have high quality Bible studies taught by amazing communicators, why we encourage daily reading of God's Word and praying and listening for His voice. 
2. Discipleship is GROWING IN FREEDOM
All of us are hindered by our past. Sins and failures, abuses and wounds, pain, disappointment, and brokenness. These are the hallmarks of being human and none of us are immune. But Jesus is a rescuer. He meets us in our brokenness and heals us, sets us free, and makes us whole. And He does this through His church. The church is the community where healing and freedom are discovered, together. 
Discipleship happens in community. This is why we gather in groups, why we build real relationships that go beyond the surface, why we care for one another, and build one another up. This is why we connect ourselves to Jesus and each other so we can successfully keep moving forward toward more freedom and life.
3. Discipleship is DISCOVERING PURPOSE
God didn't just save us from something, He saved us for something. And every experience, desire, gift, or ability you've been given is whispering something about the purpose of your life. We believe this process of discovery happens best in community and leads to fulfillment and significance. Howard Thurman was an influential pastor in America during the civil rights movement of the 1960's. He said, "Don't ask yourself what the world needs. Ask yourself what makes you come fully alive. Because what the world needs most is people who have come fully alive." Discovering our purpose brings us meaning, but it also brings life to those around us. 
This is why we offer classes and courses on discovering your spiritual gifts, understanding your unique personality, and narrowing in on your most meaningful areas of service and contribution. This is why we believe that EVERYONE in the family of the church has a unique role to play and when we discover it, everyone wins.  
4. Discipleship is GOING TO MAKE A DIFFERENCE
The journey of following Jesus was never meant to find its fulfillment in us. Jesus' whole message was wrapped up in his words from Mark 10, "The the Son of Man did not come to be served, but to serve. And to give his life as a ransom for many." To follow Jesus is to put others first. To make a tangible and meaningful impact on the world around us. And to continue to introduce people the real Jesus. He is, after all, the greatest thing we have to offer anyone. Real disciples live and love in such a way that it results in others becoming real disciples too.
This is why we serve and volunteer at church and in our communities. We believe the real Jesus ought to make a real difference in the real world. And we are called to be his hands and feet. This is why we give of our resources. Not only because it demonstrates our trust in God for our financial needs, but because it is used to bring good news to people in Tulsa and all over the world.  
The invitation to follow Jesus is a life-changing adventure. It involves every part of us and Jesus asks for nothing less. He came to rescue, to heal, to save, to set free, and to offer life to the full! We take that very seriously at Church on the Move because we want everything He has to offer. And we want that for you too. 
Jesus is calling, and we must go. Come, go with us. 
A Blog by Lee Martin
Read our next blog: Have you met the real Jesus?