June 23, 2021
Psalm 42: When Hope is Hard to Find
BY STEPHEN POSEY
Psalm 42 is one of the most well known Psalms of all time, mostly due to the visceral, moving imagery of its opening verse:
"As the deer pants for the flowing streams, so pants my soul for you, O God."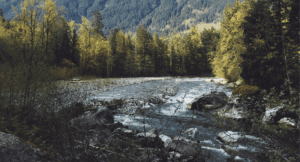 Maybe you've sung those words before? In fact, if you old-schoolers are like me, you can't help but sing Maranatha's world-famous 1984 worship hit As the Deer in your head every time you read Psalm 42, can you? Or maybe you were more into John Michael Talbot's slower, contemplative Psalm 42 from '89? (Yes, I can feel the "okay, boomer" comments coming through the internet at me, and I'm okay with it.)
For the benefit of our young friends (I'm so proud of you for reading a blog with so few pictures! Look at you go.), I'll also mention Tori Kelly's gorgeous Psalm 42 from 2018 and I think Jesus followers of all ages can get on board with Shane & Shane's brand new release Psalm 42 (Loudest Praise).
Each of these lovely songs riffs off of the opening line of Psalm 42 in some way and capture our imagination as to what it's like to yearn for God's presence. Who can blame any artist for taking inspiration from such a beautiful line! But have you ever stopped to really think about what's really going on in this Psalm?
The Picture vs Reality
When we read this opening verse, most of us picture a carefree, majestic stag artfully prancing across a picturesque landscape toward a serene, bountiful water source. Then, we might imagine the deer is slightly out of breath as he calmly bows down for a cool, refreshing drink. In this view, we like the deer, are mostly in control, but we love God and know we can't live without Him. All we need to do, in this reading of Psalm 42, is long to be with God like this non-anxious deer longs for that lovely stroll to the water brook. Come now. Is this what Psalm 42 is saying? I'd like to propose this sentiment is almost the opposite of what the Psalmist is trying to convey with the opening line to Psalm 42.
Have you ever heard a deer? Deer don't sing, they snort. They don't howl, they blow, grunt, bleat, and wheeze. It's not particularly melodious. And the sound of a deer barking in the woods? It's just downright creepy.
You know how cute it is when your little puppy huffs and puffs and pants from running in circles around the living room? Deer panting is not like that. When a deer really pants it looks like it's on death's doorstep. He may stick his tongue out and sometimes his whole body just starts convulsing. Again, not that cute.
Now imagine a deer has been on the run from a predator, forced up into the mountains for days, now finds herself far away from home and far away from any known water source. She's been barking and wheezing and now she's at her wit's end, panting for water. What words would you use to describe the way a deer feels in this situation? Disoriented? Desperate? Distressed? Or, to use a couple of words from further along in Psalm 42: Disquieted? Downcast?
Now we're getting somewhere. The Bible is not just for good people and the Psalms are not icky sweet prayers! Scripture is for real people going through real-life issues! If God is real, wouldn't He want us to be real with Him?  Why would He want us to play pretend with our prayers? Why do we feel like we have to keep it tucked in with God when He knows everything anyway?
Getting Honest in Prayer
Eugene Peterson put it well in Answering God: The Psalms as Tools for Prayer (one of his excellent books on the Psalms). He wrote,
"Our prayers, whether clumsy or skilled, heretical or orthodox, verbatim from the Psalter or ad libbed from a sinking ship, get us no merit with God. God hears anything we whisper or shout, say or sing. Right words and correct forms are not prerequisite to a heavenly audience…"
This, I think, gets at the prayer philosophy of the ancient Hebrew psalmists— raw, honest words to a real, ever-present God.
Now, take up that image of the endangered, thirsty deer on the run in your mind again, and now read the opening line all over again:
"As the deer pants for the flowing streams,

so pants my soul for you, O God."
Don't let the word "soul" throw you off. The Psalmist didn't think of the human soul in the same way we do today. The word translated "soul" is the Hebrew word nephesh (נֶפֶשׁ) and it literally means "throat" or "breath", but it's used to describe a person's whole being. Another valid way to translate this opening line is:
"You know how a deer desperately seeks high and low
for the life-giving rescue of a flowing mountain stream?
That's how desperately everything in me needs God's rescue now!" 
Remembering Salvation
Now let's consider the rest of the Psalm. What does the Psalmist do with his desperation? How does he talk to God?
My soul thirsts for God, for the living God.
When shall I come and appear before God?
My tears have been my food day and night,
while they say to me all the day long,
"Where is your God?"
This sounds like the Psalmist is calling God out for not being there. God is everywhere, yes, of course. But the Psalmist is asking for God's manifest presence—for the reality of His goodness to be seen.
Hope in God; for I shall again praise him, my salvation and my God.
My soul is cast down within me; therefore I remember you
from the land of Jordan and of Hermon, from Mount Mizar.
On what basis does the Psalmist have the gumption to talk about hope? He's saying "I shall" (future tense) have salvation… but "my soul (whole being) is" (present tense) cast down within me, therefore I remember the past tense.
Deep calls to deep at the roar of your waterfalls;
all your breakers and your waves have gone over me.       
By day the LORD commands his steadfast love,
and at night his song is with me, a prayer to the God of my life.
The Psalmist is immediately doing what he said he would do—he's remembering salvation. Notice he's talking about the exodus story (God rescuing the Israelites from Egyptian slavery) as if it's his story.
I say to God, my rock: "Why have you forgotten me?
Why do I go mourning because of the oppression of the enemy?"
As with a deadly wound in my bones, my adversaries taunt me,
while they say to me all the day long, "Where is your God?"
Notice the Psalmist doesn't just remember what has happened and stuff his feelings about what is happening for the benefit of what he generally hopes will happen. He again reminds God of the difficult reality he's facing in the here and now and cries out for God's help!
Quiet Your Soul
Why are you cast down, O my soul, and why are you in turmoil within me?
Hope in God; for I shall again praise him, my salvation and my God.
Finally, the Psalmist talks to his soul (his whole being). If he feels anything like the anguished deer on the run from adversarial forces, it's no wonder his feelings are all over the place. He feels panicky, and angry, and confused, and frustrated. Yet he quiets his disquieted soul by speaking.
Now, this is wildly different than modern psychology and re-emerging philosophies connected to Stoicism. Famous author and podcaster Tim Ferris, borrowing a phrase from Stoic philosopher Seneca, says, "We often suffer more in imagination than in reality." "Stoicism" Ferris continues, "is an operating system for making better decisions and being less emotionally reactive." These ideas may sound logical to you, and they do, in fact, have kernels of truth to them. But they are not the way of the Psalmist. The resources available in Psalm 42 put stoicism to shame.
Hope in God
Did you notice what the Psalmist actually did? He didn't try to be less emotionally reactive so he could make a better decision. He gave full-throated voice to his emotions, like a deer snorting, bleating, barking, panting, and wheezing! He aired them out! But he didn't blast them on social media or drown his tears in Dos Equis and tell the tenderhearted tip-motivated bartender. He took them to the only one who could do something about it! He cried out to the very God He was frustrated with!
Then after opening up the full range of his emotions to God, he trusted God was listening. So he turned to his soul and spoke: "Hope in God!" He spoke words of life: "I shall praise him, my salvation and my God."
Eyes up, ears open, one foot in front of the other, the deer hopes for living water. Psalm 42 tells us to tell ourselves to do the same.
Why so downcast? Hope in God.