Our new mark is so much more than just a shape; it's a reflection of who we are, an expression of an ancient faith in a modern world. It's bold, distinct, and reminiscent of a different era while adopting the fashion-forward elegance of mid-20th century design.
"A brand doesn't define a company, organization, or church; it should reflect who you already are. That's what I love about this new brand. It reflects our heart and the season we are currently in at Church on the Move."

— Whit George, Lead Pastor
We want everyone that comes in contact with Church on the Move to know that we are a community that embraces the rich heritage of the Chrisitan faith while embracing the cultural realities of the moment.
Read below to learn a little more about our new brand.
1. Jesus at the Center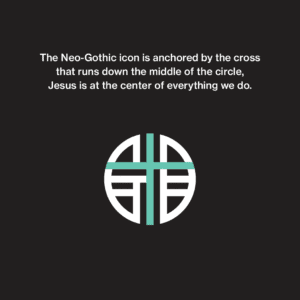 If you didn't already know, Church on the Move is a Jesus church. Real life change and a deep commitment to Christ are our rocket fuel, so naturally, we wanted our brand to reflect this commitment.
The cross running down the middle of the circle reflects our heart to have Jesus at the center of everything we do.
2. An Invitation to Follow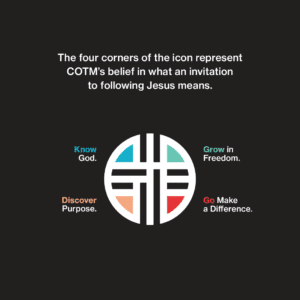 Everyone's discipleship journey is different, but we believe that each story has four characteristics in common—knowing God, growing in freedom, discovering purpose, and going out to make a difference.
The four corners of our icon represent our belief in what an invitation to following  Jesus looks likes—Know. Grow. Discover. Go.
3. Ever on the Move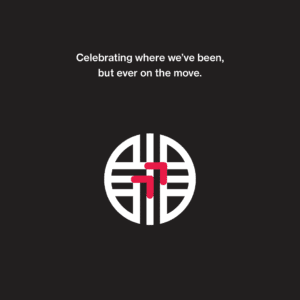 Our heart is to be a church that is moving toward the lost and broken-hearted—a church that carries the mission of God out into our communities.
The arrows in the center of our icon are a nod to our previous logo and represent our heart to be ever on the move.